Do you know this feeling that comes up while gliding through the snow-covered, glittering landscape under a bright blue sky and breathing in the clear, cold winter air?
Cross-country skiing on the Arlberg feels so fantastic, free and fulfilling. And the currently fantastic snow conditions enchant the Ski Arlberg region into a true winter sports fairy tale.
Cross-country skiing on the Arlberg
The approximately 40-kilometer-long route network on the Arlberg offers a variety of beautiful routes with different levels of difficulty, optimal signage and ample parking. Especially popular are these trails:
POFEL ROUND – 1,5 km
East of the Wellness Park (between Rosanna and the freeway) in Pettneu, with ascent and descent.
LOIPE REIT – 2 km
Light, flat, 2 km long lap, located in the east of Pettneu, with connection to Stanzertal trail, perfect lap for training.
LOIPE ST. CHRISTOPH – 2,5 km
Medium-high altitude trail at 1800 meters with skating track.
LOIPE VERWALL – 10 km
This trail is one of the most beautiful in Austria. The start is about 200 meters west of the Hotel Mooserkreuz. Through the romantic Verwalltal with changing climbs and descents for the track to the resthouse and Verwallsee.
Sport Matt TIP
NIGHT CROSS-COUNTRY SKIING IN PETTNEU
In floodlighting every Monday and Friday from dusk (about 17:00 clock) to about 21:00 clock the special sports pleasure, the popular night cross-country skiing in Pettneu instead. The start is at the Wellness Park Pettneu (parking) and leads on the illuminated track to the west, also through the Rosannastadion. The 2 kilometer long trail is ideal for classic and skating.
Do you need suitable equipment for your cross-country skiing pleasure?
Cross Country Ski Rental Sport Matt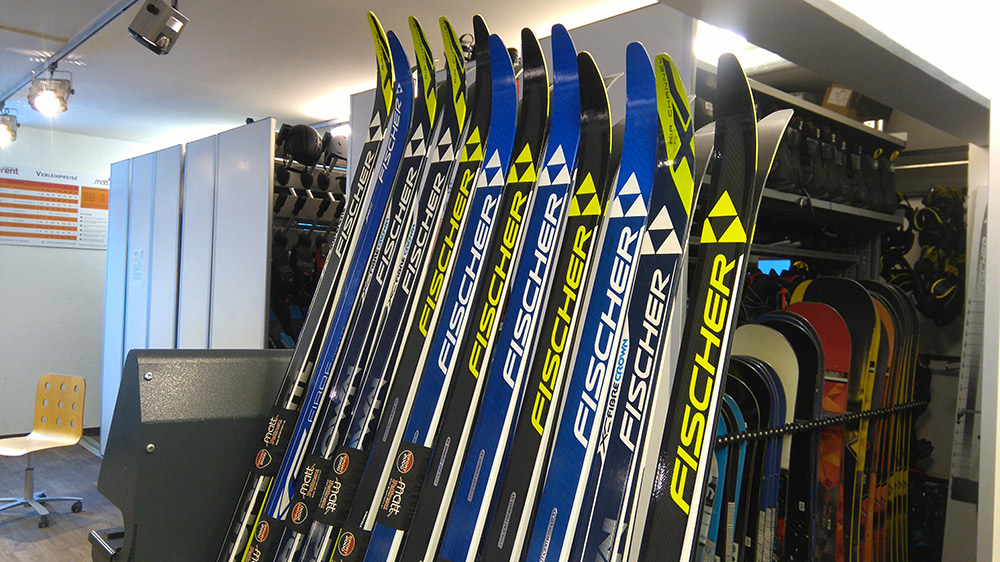 The equipment in our cross-country ski rental is up to date, in excellent condition and well maintained. Here you will find a huge selection of all current models of the top brands.
A perfect cross-country ski allows you a pleasant, effortless and harmonious gliding. We advise you about the optimal ski hardness and length, because factors such as size, weight and running technique are very important.
We are there daily from 08:00 to 18:30 – also on holidays and weekends – for you!
We look forward to your visit!