In the current situation, in which we all help to reduce the spread of the corona virus by staying at home, there will be no outdoor sports for the next few weeks for the first time. Gyms across Austria have also been closed since March 16.
Therefore we have a super effective 4 minutes for you
TABATA Workout for at home
TABATA is a highly intensive interval training and so effective that only 4 minutes are enough to optimally push your fitness. Each curcuit is 30 seconds – 20 seconds training session / 10 seconds break.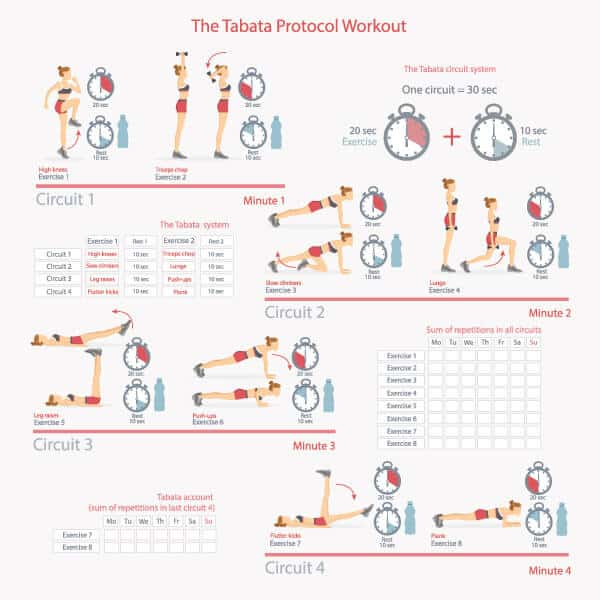 TABATA – Workout for at home as PDF for download HERE
CURCUIT 1 – Minute 1
HIGH KNEES – Exercise 1
20 SECONDS
Stand up straight – feet hip-width apart. Raise your right leg to your chest and now alternately move your left and right leg to your chest at a sprint or running pace.
10 SECONDS PAUSE
TRICEPS OVERHEAD CHOP – Exercise 2
20 SECONDS
Stand with your feet shoulder-width apart and your knees slightly bent and hold a weight (water bottle) straight up in both hands. Now bend the elbows to lower the weight behind your head and then stretch your arms back to the starting position.
10 SECONDS PAUSE
CURCUIT 2 – Minute 2
SLOW CLIMBERS – Exercise 3
20 SECONDS
Starts in a push-up position. You remember, you have a straight line from your shoulders to your heels. from here you keep your abs tight and your hips nice and quiet. Bring the leg forward until it touches the elbow. Left and right leg alternately for a total of 20 seconds.
10 SECONDS PAUSE
LUNGE – Exercise 4
20 SECONDS
Stand up straight with your feet apart. Take a big step forward with your right leg and begin to shift your weight forward so that the heel hits the ground first. Lower the upper body until the right thigh is parallel to the floor and the right shin is vertical. Now press in the right heel to return to the starting position. Repeat right and left leg alternately for 20 seconds.
10 SECONDS PAUSE
CURCUIT 3 – Minute 3
LEG RAISES – Exercise 5
20 SECONDS
With this abdominal exercise you lie on your back and keep both legs stretched about 15 cm above the floor. Now raise the legs so that they form an angle of 45 ° with the floor, then lower them again from this position to 15 cm above the floor.
Important! Your lower back should always be in contact with the ground. For this you can also clench your hands into fists and slide them under your buttocks.
10 SECONDS PAUSE
PUSH-UPS – Exercise 6
20 SECONDS
Shoulders, hips and feet are a line and exactly this line is maintained when pushed up. You should make absolutely sure that your butt does not sag and that you can maintain the trunk tension. The downward movement should be carried out slowly and in a concentrated manner and thus you can also execute it more slowly than the coming up. Do not spread your arms close to your body and elbows.

10 SECONDS PAUSE
CURCUIT 4 – Minute 4
FLUTTER KICKS – Exercise 7
20 SECONDS
Lie with your back on the floor, your arms stretched out next to your body, your palms flat on the floor, and your head lies on the floor and remains on the floor during the exercise. Now raise your legs in the air and keep them almost straight, knees slightly bent, toes stretched forward. The angle between your legs and the floor should be about 30 °.
Now you can start scissoring the legs. As you move one leg down, you move the other up.
10 SECONDS PAUSE
PLANK – Exercise 8
20 SECONDS
When planking, you simply get on your knees, support yourself with your forearms on the floor and make your legs long. Put your toes on and raise your buttocks until your body forms a straight line between your back, pelvis and legs. You hold this position for 20 seconds.
10 SECONDS PAUSE
We hope you enjoy the TABATA workout at home, stay healthy and #stayfitathome!
Your team from
Sport Matt