Cross-country skiing is one of the healthiest sports, because it is an optimal training for the whole body, trains endurance, strength, coordination and is also very easy on the joints.
What could be nicer than gliding over the crunching snow through a snowy winter landscape? The perfect snow conditions enchant the Ski Region Alrberg in a true cross-country paradise.
Cross-country skiing paradise Arlberg
The route network on the Arlberg, which is around 40 kilometers long and has been awarded the cross-country seal of approval, offers a variety of wonderful routes with different levels of difficulty, optimal signage and ample parking.
LOPES
POFEL ROUND – 1,5 km
CLASSIC / SKATING
East of the Wellness Park (between Rosanna and the freeway) in Pettneu, with ascent and descent.
LOPE REIT – 2 km
CLASSIC / SKATING
Light, flat, 2 km long lap, located in the east of Pettneu, with connection to Stanzertal trail, perfect lap for training.
LOPE ST. CHRISTOPH – 2,5 km
CLASSIC / SKATING
Medium-high altitude trail at 1800 meters with skating track.
LOPE VERWALL – 10 km
CLASSIC / SKATING
This trail is one of the most beautiful in Austria. The start is about 200 meters west of the Hotel Mooserkreuz. Through the romantic Verwalltal with changing climbs and descents for the track to the resthouse and Verwallsee.
LOIPE STANZERTAL – 22 km
CLASSIC / SKATING
The start of this trail along the Rosanna to Flirsch is near the recycling center at the bridge.
NIGHT-WALKING IN PETTNEU – 2 km
CLASSIC / SKATING
Every Monday and Friday from dusk (around 5:00 p.m.) to around 8:30 p.m., night cross-country skiing in Pettneu offers a very special sporting experience. The start is at the Pettneu Wellness Park (parking) and leads west on the illuminated route, also through the Rosanna Stadium. The 2 km long trail is ideal for classic and skating.
Do you need suitable equipment for your cross-country skiing pleasure?
Cross-country skiing on the Arlberg
Ski rental Sport Matt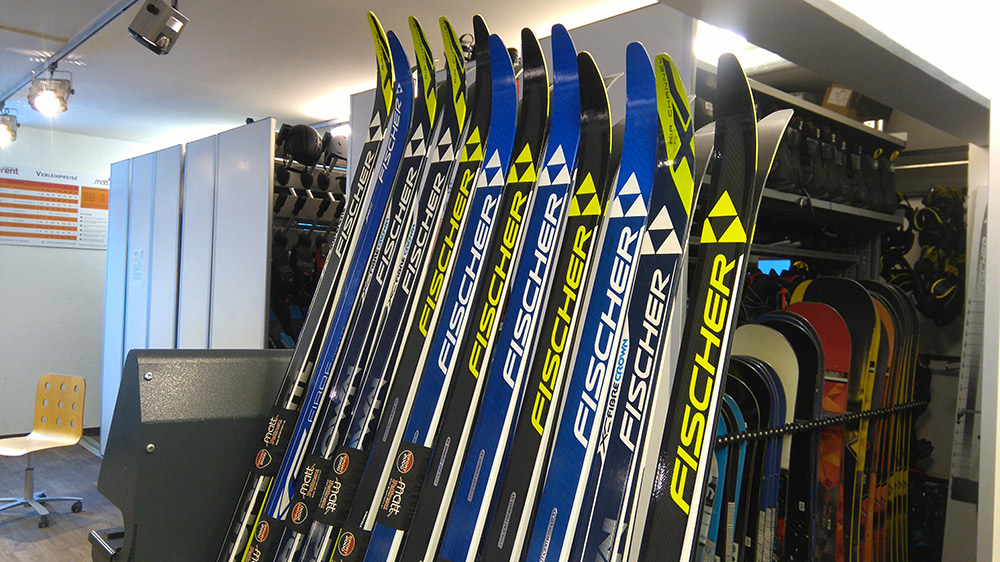 In our online ski rental you will find all current models in top condition and always well maintained. Reserve your rental ski online conveniently and quickly from home or drop by our store, we will be happy to help you find your perfect cross-country ski.
We look forward to your visit!
The team from
Sport Matt